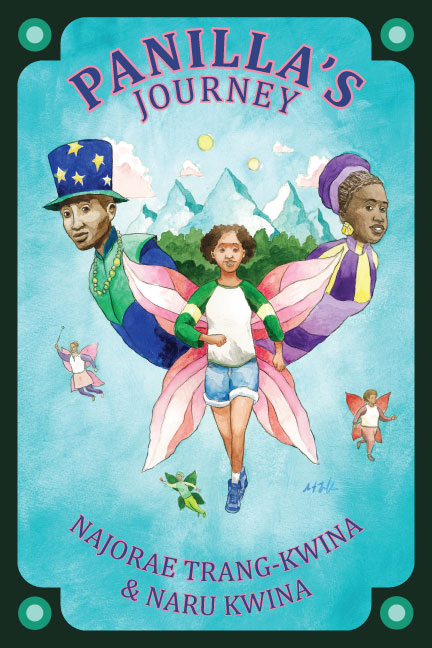 ---
AMFis proud to support founder, Naru Kwina's project, "Panilla's Journey." We are seeking donations to fund this project. Read below to learn more about this amazing project:
My project is titled "Panilla's Journey." It started as a manuscript I wrote with my daughter about a young girl's changing view of the world and the effect she and others have on it. It is about problem solving conditions that we face as a species living on this planet.
As a parent it was heart breaking for me to witness my child start to realize that the world she was living in wasn't perfect. She wanted to know why things were the way they are, and why I couldn't just fix it all. This inspired me to sit down and write with her what her dream world would look like. These conditions include global warming, pollution, racism, and violence.
"Panilla's Journey" is a fanciful tale full of magic and wonder, but also practical solutions. People of color are the main characters in the manuscript. It will be transformed into an interactive augmented reality based book that incorporates animation as well as music. Characters literally will jump right off the pages of our book, with the help of a smart phone or similar type device. Readers will be able to upload ideas for saving our planet to our website, and start think tanks both locally and globally. Viable ideas will then be implemented.
Our partners in this will be environmentalist, parents, children, schools, and family and community based organizations. We will have a live version of the story as well, that we can bring directly to community centers, schools, and festivals. This version will feature life sized puppets, and costumes as well as video and audio components. We also plan to do a smaller version of the live show as a pop up at parks and street corners in various neighborhoods.
I already have the illustrator Robert Trujillo, as well as the animator Allah El Henson on board for this project. I will hire out all the fabrication items. I myself will be producing the musical accompaniment, and lyrical content. I have direct contact as an educator with both the Oakland and Berkeley school system here in California. I will work directly with teachers and other educators, as well as programing managers of venues and festivals that fit our family based theme to bring this to hundreds of people during our first year.  The goal of Panilla's Journey is to empower, and give our children hope for our future, as well as a voice and vehicle to make positive, and lasting change. This is a project that will be able to sustain itself. With the help of your generous donation all facets of this project should be completed in the first year.