AMF supports the creation of a Human Centered Internet that respects the values of privacy, race and gender equity, equitable participation and diversity. We support creatives that seek to reshape the internet to reach humanity's full potential and to be accessible to everyone.
AMF has partnered with Daveed Benjamin, NGI Ambassador and CEO at Skōōl, Founder of Bridgit to imagine the Next Generation Internet based on a new kind of Internet technology that Bridgit is referring to as the "Overweb". Daveed seeks to innovate the Internet by re-building the world's knowledge base and reorganizing the information on the web to make the Internet more like the human brain by fostering connections or bridges on the Internet that favors longer term engagements and conversations. To this end, he has received a patent for a system for creating and retrieving contextual links between user interface objects
The Bridge Project will support the "Fair Play Fact Check" Campaign which seeks to combat misinformation in the United Kingdom Election of 2021. The hope is that this project will create a standardized cultural shift in fact checking that will revolutionize fact checking everywhere.

Fair Play Fact Check will utilize Bridgit's patented technology for crowdsourced fact checking and the Bridger.live, a knowledge sports platform for crowdsourced fact checking. The objective of the campaign is to implement the recommendation of over 70 organizations that weighed in on safeguarding elections and democracy in the digital age: Create a non-governmental "Fact Checker" coalition for election periods.
Daveed is a social entrepreneur, storyteller, and shift shaper. Like many of AMF's artists, Daveed is inspired and motivated by his daughter. His most important identifier is "Papa." He has harbored a passion to be Abel to look his daughter in the eyes when she is a young adult and be able to tell her that he did everything that he could to make the world a more peaceful, loving, and joyful place. Since his daughter's birth, he has been busy creating such entities as the Post Carbon Institute, Bay Localize (which became Rooted in Resilience), Pacha's Pajamas, and Bridgit, among many others.
As a "Shift Shaper," Daveed's work focuses on collective wisdom and altering systems of consciousness for positive impact. He worked on decentralization in early 2000s focusing on energy, food, and water and on building local economies. In the early 2010's, He co-founded and co-created an award-winning purpose-driven, extended reality children's property called Pacha's Pajamas, an AMF project, that features Mos Def, Talib Kweli, and Cheech Marin. He is currently the founder and CEO of a WisdomTech startup, which focuses on decentralizing knowledge & building collective intelligence.
He is a part of an initiative to transform the internet along with other NGI Ambassadors who serve as experts for the Next Generation Internet (NGI) initiative. The NGI aims to shape the development of the Internet of tomorrow into an Internet of humans that responds to people's fundamental needs, including trust, security and inclusion, and reflects the values and the norms that we enjoy in Europe. NGI Ambassadors come from a variety of fields of digital technology including Artificial Intelligence, Cybersecurity, Digital Identities and Distributed Ledger Technologies, who contribute to the dialogue and growth of the NGI community. Ambassadors adhere and represent the values at the core of the human-centric internet such as openness, inclusivity, transparency, privacy, cooperation, and the protection of data. Many Ambassadors, like Daveed, are involved in research, policy development and disruptive innovation.
Daveed, who pioneered the #Overweb concept, is leading an eclectic team of talented developers, artists, technologists, and change makers who are committed to an open internet with enhanced capacity for sharing knowledge, insight, and wisdom.
The Overweb is a trust layer over the current web that allows the building of bridges that provide deeper context and crowd-sourced validation. Bridgit's approach enables the discovery of trustworthy information orders of magnitude faster than search and is attention-driven, which means no more interruption-based advertising.
The internet as we know it is facing a critical challenge with fake news being one of the most debated socio-political topics of recent years. With a 52% perceived frequency of online news websites reporting fake news stories in the United States and 96% of U.S. adults voicing distrust with social media. Bridgit provides a community-based solution for sensemaking and marks the beginning of a new way of sharing knowledge online built with the future in mind.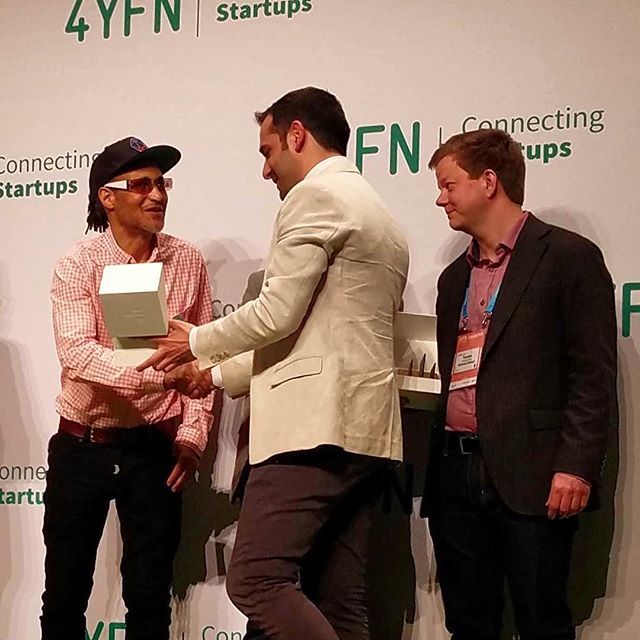 Bridgit is the proud recipient of the 2019 Disruptive Technology Culture Driver from the European Commission's Next Generation Internet program. Bridgit was the only non-european company to win an NGI award. With the NGI program, Europe is taking a forward thinking approach to the future of the Internet. They reject the monopolistic and exploitative business practices of the Internet platforms in the West and surveillance models in the East. Charting a refreshingly unique course, the NGI aims to build a human-scale Internet of trust, privacy and inclusivity through innovation.