AMF proudly supports one of Hayward Education Foundation's 2018 Heroes: Chris Gould, with our Quilt Project for her Girls Empowerment Soccer Club.
Chris, a blingual teacher, was recently recognized for the tireless dedication, passion and love that she bestows on her students at Harder Elementary school in Hayward. Like many schools in California, Harder Elementary with its strong Latino community was hit hard by the current administration's crack down on immigrants. Many of Chris' students have been fearful and despondent of their futures in California and the United States.
As a teacher, Chris not only leads her classrooms, teaching valuable skills to her students, but she also creates a safe and trusting environment for students to explore, critically analyze, and have respite from the turmoil of the wider political environment. As a teacher, she is not only an educator but also a social justice advocate, building leadership, mutual respect, and community with her students and their families.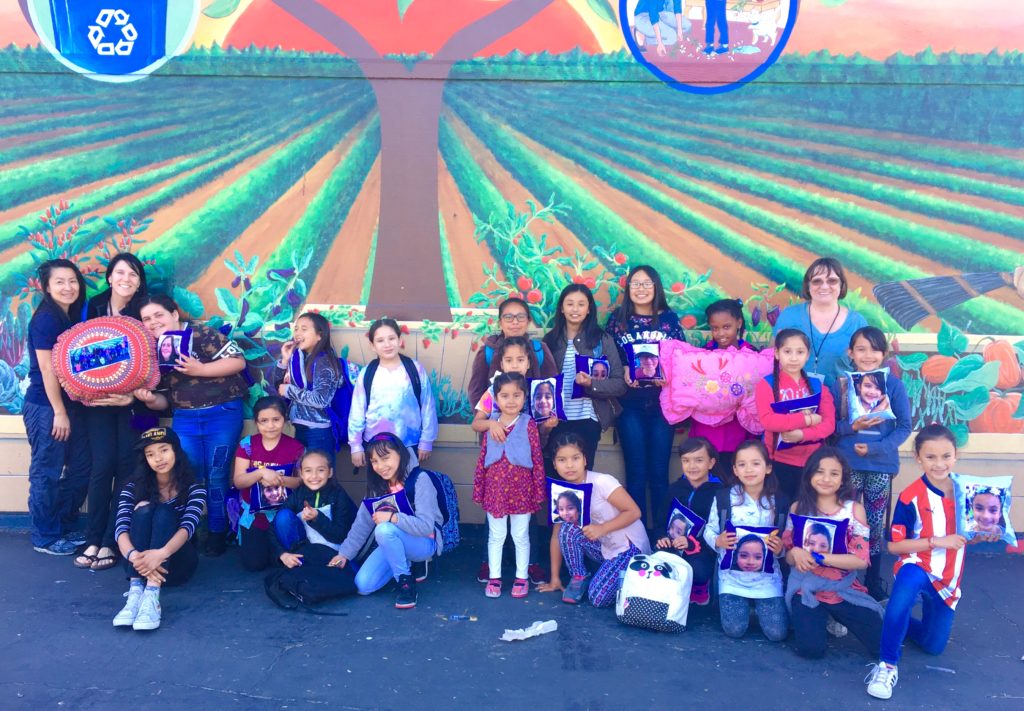 One of the ways she does this is through ensuring an avenue for empowerment for young girls at Harder Elementary School. For half a decade, Chris has led the school's Girls' Empowerment Soccer Club. The club provides 20 to 30 girls ranging from 2nd through 4th grade with the opportunity to participate in a team sport while also building teamwork and collaboration and leadership skills.
For example, after practicing and playing Soccer, Chris ends club meetings with a "Community Circle" where the girls can talk about issues related to character development. This is also a special time where the girls can personal experiences particular to girls and how they can support one another.
Every year Chris personally raises money to buy art supplies, snacks, soccer balls and cones, shin guards, shorts and team T-shirts for the girls.
This year, AMF raised supplies and funding to do a quilt project with Chris' club. We led a quilt making workshop with Chris' amazing much loved classroom volunteer, Becky King. In the workshop, the girls made pillows that featured their faces. We also enjoyed some fun time teaching the girls how to harmonize and sing and perform a song.